Roncesvalles Polish Festival 2018 located along Toronto's beautiful Roncesvalles Ave. has continuous live music on multiple stages including Polka and Euro Dance Bands, Polish folklore song and dance groups, Saturdays night's Dance Under The Stars.
Discover the treasures along the 18 blocks of boutique shops, merchants and restaurants including: side walk sale's, over 40 local restaurants / cafes / bakeries / bistros offering sample plates, expanded street patio's at our restaurants and bars.
Visit our two Beverage Gardens located at the Main and Polkamania Stages.
We also have Polish and international food vendors, buskers, entertainers, family zones, amusement rides, art zone, 3 Stages (Main Stage, Scotiabank Polkamania Stage, and Copernicus Stage) and so much more you'll have to come for both days!
Opening Ceremonies
Saturday September 15th, 4:00pm at the Main Stage
Canadian Olympian, Alex Kopacz, is our special guest and co-MC for the Opening Ceremonies.
In his Olympic debut at PyeongChang 2018, Alex Kopacz won gold in the two-man bobsleigh event with pilot Justin Kripps.
Alex Kopacz – Team Canada
Roncesvalles Polish Festival is fun for all!
Added this year, join our Friday night Polish Festival Launch Parties!
Start your Polish Festival celebration early with two events to choose from, starting at 8:00pm:
Disco Polo Dance Party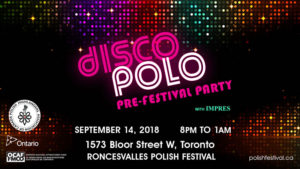 Dance the night away with Impres.
Join us at Lithuanian House.
See more information at: Eventbrite or Facebook
Polka Party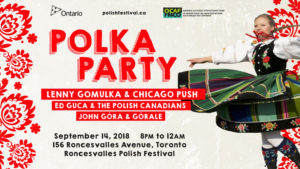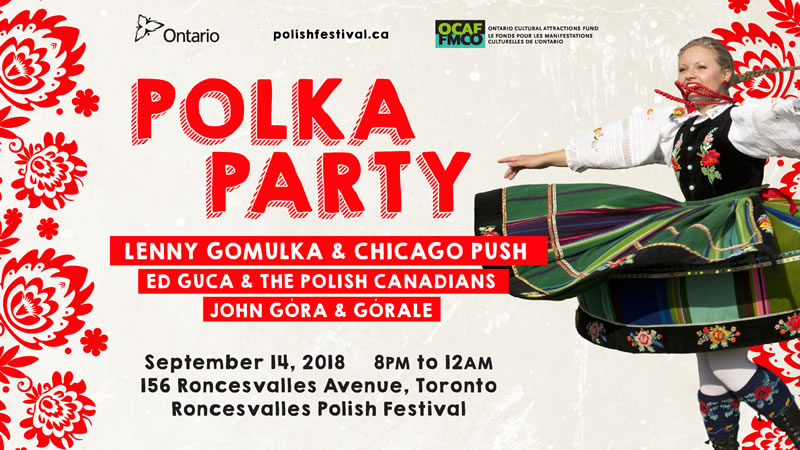 Inducted into the Polka Hall Of Fame, these three leads and their bands will keep you dancing. Don't miss Lenny Gomulka & Chicago Push, Ed Guca & The Polish Canadians, and John Góra & Górale.
Sponsored by Igloo Food Equipment
Join us at St. Casmir's Church Hall.
See more information at: Eventbrite or Facebook
Saturday September 15th at 6pm – Live Performance
Pola Negri Stories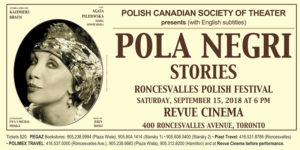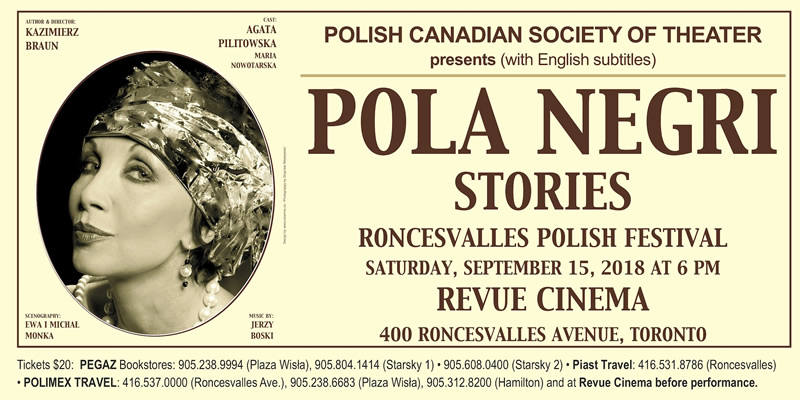 Pola Negri Stories
With English Subtitles
Written & Directed by Kazimierz Braun
Cast: Agata Pilitowska, Maria Nowotarska
Revue Cinema, 400 Roncesvalles Avenue
See more information at Eventbrite or Facebook.
Below are just some of the highlights you can plan to see!
Festival Map: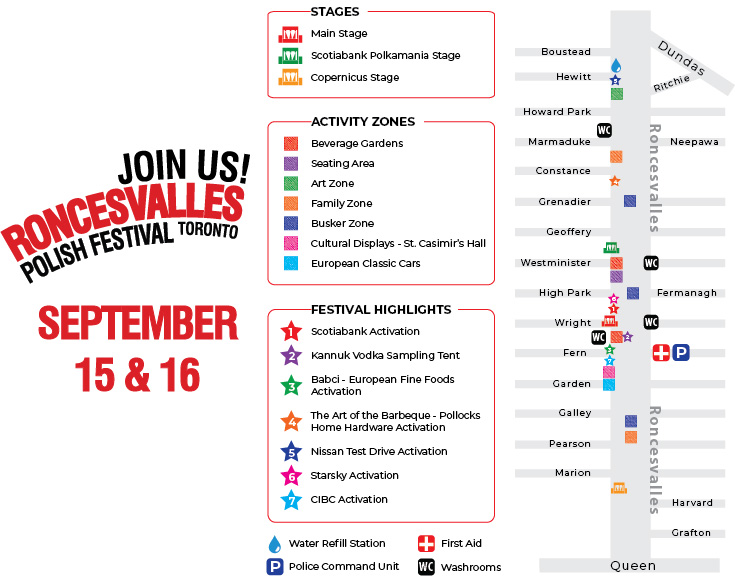 2018 Performers and Bands
Stage Schedules
Saturday September 15th, 2018
Festival Hours: 11:00AM to 11:00PM
Main Stage
Scotiabank Polkamania Stage
Copernicus Stage
Sunday September 16th, 2018
Festival Hours: 11:00AM to 7:00PM
Main Stage
Scotiabank Polkamania Stage
Copernicus Stage
Festival Highlights
Boutique shops, Merchants, Restaurants and Bars
Dance Under The Stars
Consulate General of the Republic of Poland
Pola Negri Stories
Scotiabank Activation
Kannuk Vodka Sampling
LOT Polish Airlines
BABCI – Pickle on a Stick
Art of the Barbecue Display
Nissan Test Drive
Starsky Fine Foods Activation
CIBC Capital Markets Photobooth
Barque Patio
Tim Hortons Patio
Polish ArtWalk
Family Fun Zones
Busker Zones
European Classic Car Display
Vendors and Food Vendors
Beverage Gardens