Roncesvalles Polish Festival 2018 located along Toronto's beautiful Roncesvalles Ave. has continuous live music on multiple stages including Polka and Euro Dance Bands, Polish folklore song and dance groups, Saturdays night's Dance Under The Stars.
Discover the treasures along the 18 blocks of boutique shops, merchants and restaurants including: side walk sale's, over 40 local restaurants / cafes / bakeries / bistros offering sample plates, expanded street patio's at our restaurants and bars.
Visit our two Beverage Gardens located at the Main and Polkamania Stages.
We also have Polish and international food vendors, buskers, entertainers, family zones, amusement rides, art zone, 3 Stages (Main Stage, Scotiabank Polkamania Stage, and Mirabella Condos Stage) and so much more you'll have to come for both days!
Roncesvalles Polish Festival is fun for all!
Below are a few the highlights you can plan to see!
Map of the Festival: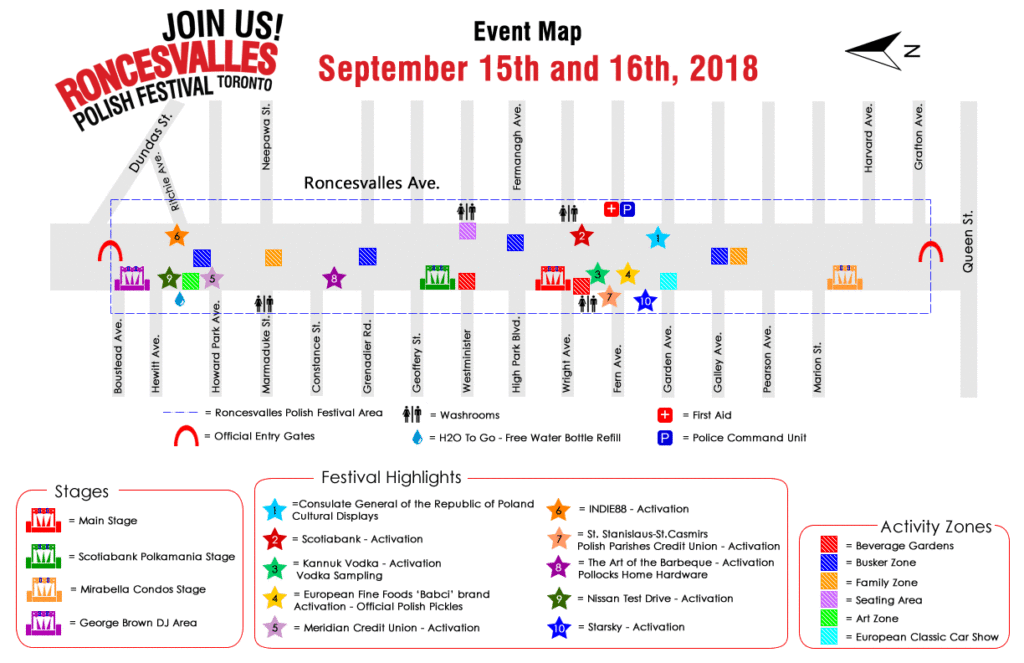 Stay Tuned for our 2018 Schedule Updates
Here is who performed last year:
2017 Performers and Bands
HARNASIE – Highlanders Folklore Dance Ensemble
ZRODLO – Polish Folk Song and Dance Ensemble from Brampton
MILLENIUM – Polish Folk Dance Group from Brampton
TATRY – Song and Dance Ensemble from Windsor
CRACOVIA – Polish Folk Dance Ensemble from London
LECHOWIA – Polish Canadian Folk Dance Company from Mississauga
RADOSC JOY – Vocal Dance Group from Mississauga
LUDOWA NUTA – Folklore Choir from Hamilton
BIALY ORZEL – Polish Dance Ensemble from Toronto
POLONEZ – Polish Canadian Folk Dance Ensemble

JOHN GORA(John Gora is an inductee of the INTERNATIONAL POLKA ASSOCIATION POLKA HALL OF FAME in CHICAGO)
ED GUCA(Ed Guca is inductee of the INTERNATIONAL POLKA ASSOCIATION POLKA HALL OF FAME in CHICAGO)
GORALE
THE POLISH CANADIANS
KORONA
PHOCUS
WASTED KNIGHTS
MR. SYSTEM
ANNA CYZON
IMPULS
POLKY BAND
AKORD
CONCERINA ALL STARS
POLANIE
ELLAVIS – Female Elvis
GYPSY MUSE
NICK PRESLEY – Young Elvis
EVORGLENS – Tributes to Tom Jones, Frank Sinatra, Righteous Brothers
JOEY CUNDARI – Young Elvis
SAM CALLERI – Concert Years Elvis
LET THE GOOD TIMES ROLL – Family Fun
Stage Schedules
Saturday September 16th, 2017
Festival Hours: 11:00AM to 11:00PM
Main Stage
Scotiabank Polkamania Stage
Mirabella Condos Stage
Sunday September 17th, 2017
Festival Hours: 11:00AM to 7:00PM
Main Stage
Scotiabank Polkamania Stage
Mirabella Condos Stage
Festival Highlights
Boutique shops, Merchants, Restaurants and Bars
Dance Under The Stars
Consulate General of the Republic of Poland
The Polish-Canadian Commemorative Exhibition
Location: 156 Roncesvalles Avenue – St. Casmir's Church Hall
BABCI – Pickle on a Stick
Nissan Test Drive
Indie88 Booth
Art of the Barbecue Display
Family Fun Zones
Busker Zones
European Car Display
Vendors and Food Vendors
Beverage Gardens