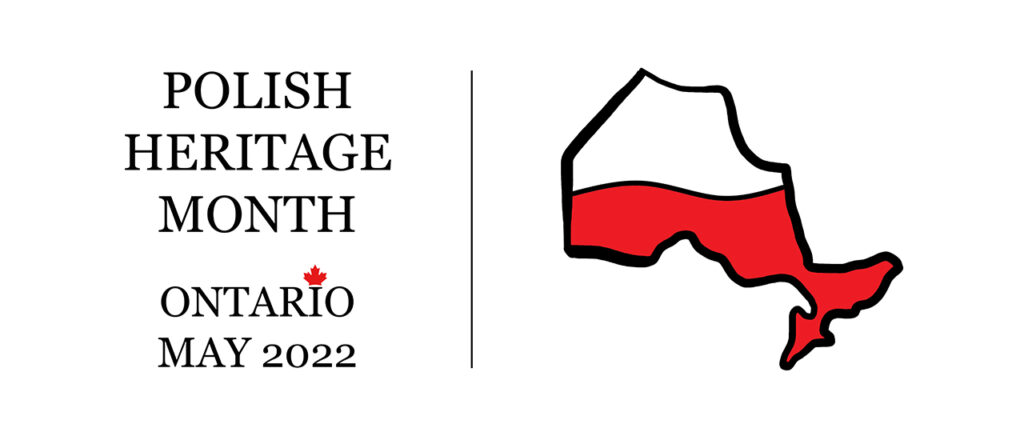 The Legislative Assembly of Ontario established month May as the Polish Heritage Month in Ontario. So called Bill 18 was introduced as a private bill by MPP Christine Hogarth. The bill received Royal Assent on December 9, 2021 by The Honourable Elizabeth Dowdeswell.
Ontario is home for over than half million people with Polish heritage. The Polish community is one of the most numerous groups in Ontario. This great group of Canadians of Polish origin has been participating in building Canada for generations to enrich its culture and heritage and become integral part of its multicultural community. Poles raise their children as part of the Canadian community and with respect to its values. Most of the Canadian families with Polish origin want to raise their descendants also in acquaintance with the language, culture and traditions of the country of their ancestors. By proclaiming the month of May as Polish Heritage Month, the Province of Ontario recognized great impact that Polish Canadians have had on Ontario's history, culture and community.
Polish Heritage Month will be celebrated each May, commemorating Constitution Day in Poland –  the implementation of the first democratic and progressive constitution in Europe on May 3rd, 1791. This is one of the most important dates in Poland's  history and marks the centuries log struggle for freedom and independence by the Polish people. Polish Heritage Month is an opportunity to bring closer to Ontarians of all ages and backgrounds Polish history and traditions. Ontario is a proud region of many cultures and proclaiming May as Polish Heritage Month is reflecting core values of its habitants.
More information: https://www.ola.org/en/legislative-business/bills/parliament-42/session-2/bill-18
(Source: https://www.gov.pl/web/canada-en/polish-heritage-month-in-ontario#:~:text=By%20proclaiming%20the%20month%20of,Ontario's%20history%2C%20culture%20and%20community & https://www.ontario.ca/laws/statute/s21037)